Model SK-300SII
Inquire product
A Planetary Centrifugal Mixer performs the two conflicting processes of mixing and degassing simultaneously in a short period of time for a wide range of materials of different viscosity levels. Furthermore, it keeps the temperature of the material down.
300 ml x 1 cup
Mode setting according to the application
SK-300SII, the new Medium mode has been added to the existing "mixing mode/degassing mode".
Easy operation keeps same, it offers a wider range of applications and a selection of modes suited for the material.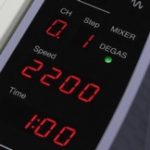 Equipped with a balance navigation function
The balance can be adjusted easily for the unbalance detection and balance navigation functions.
Compatible with 300 ml containers/max. 310 g
Despite its compact size, this model can be used to process 300 ml containers weighing a maximum of 310 g (gross weight)!!
Designed with a full range of safety functions
This unit is designed with such considerations for safety as top lid lock, operation lock during while the lid is open and a malfunction prevention mechanism. In addition, the unbalance error detection and a full range of functions for warning and notifying of motor problems or maintenance set alarm with peace of mind.
Exclusive mechanisms to the SK-300S2:
■ Medium mode
Due to the lower ratio of rotation speed makes mixing heat sustained, so even heat sensitive materials can be used.
■ Wave mode
The speeds of revolution and rotation makes up and down(fast and slow) like wave motion, then enhanced more efficient mixing and dispersing.