Model SK-1100T
Inquire product
High-Speed Lab Mixer is a device that can agitate materials without using agitator blades and deaerate simultaneously. As a result, it is possible to uniformly agitate even high-viscosity materials in a very short time.
1100 ml x 2 cups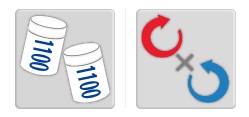 Model equipped for both high speed revolution and a wide radius gyration, supporting for the production of high quality materials.
The timing by which the revolving speed of rotation increases is controlled to improve the mixing rate of powders and liquids and sustains the generation of lumps.